Luxury villas for sale in Muro de Alcoy, a dream place to unwind
26 May 2022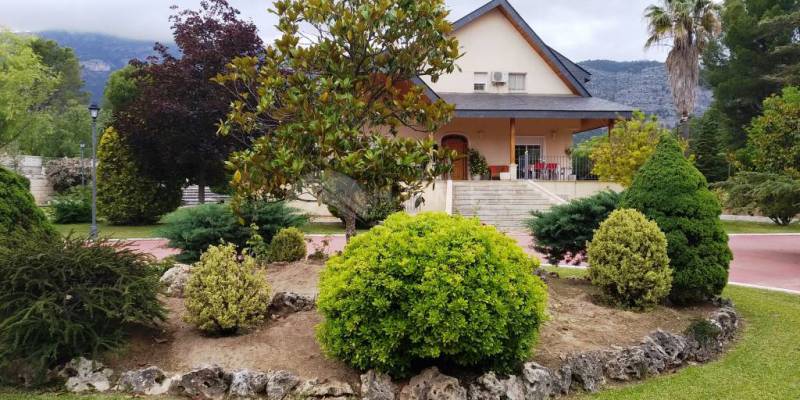 If you are one of those who like to live surrounded by nature, but want to enjoy all kinds of luxuries and comforts in your home, then our villas for sale in Muro de Alcoy will surprise you.
The mild temperatures, typical of the Mediterranean climate enjoyed in the area, invite you to walk or bike along the paths and beautiful ecological routes that you will find in the Sierra de Mariola, one of the most attractive on the Costa Blanca North. You will love to feel the delicate aroma of the aromatic and medicinal herbs that grow spontaneously in these mountains.
At the foot of this mountain range, which is characterized by its idyllic landscapes with poplar, holm oak and pine forests, is the town of Muro de Alcoy. This town, dedicated both to cultivating the surrounding fields and to the textile industry, has all kinds of services that allow its inhabitants to live comfortably:
Intercity buses that communicate with the surrounding towns
Health center, pharmacies, private medical consultations …
Post office, banks, sports center, Civil Guard facilities…
Supermarkets, municipal market, various shops
Bars and restaurants where you can savor the exquisite local cuisine
What is special about our fabulous villas for sale in Muro de Alcoy?
When you visit our villas for sale in Muro de Alcoy you will be totally captivated. Located on the outskirts of the town, they are located on large plots that offer you great privacy . Without leaving your property, you can enjoy:
beautiful mediterranean gardens
garden areas to grow your vegetables in an ecological way
impressive swimming pool surrounded by a large solarium
barbecue to enjoy a healthy meal outdoors
The houses are very spacious and are built with the best quality materials . From its charming porches you will see beautiful views of the mountains . They have several bedrooms that will allow you to meet with your family or your closest friends to enjoy some enchanting days.
Are you interested in our villas for sale in Muro de Alcoy?
At HOMES IN COSTA BLANCA we will be happy to provide you with all the information you need about our villas for sale in Muro de Alcoy, Ontinyent, Cocentaina… We are the real estate agency specialized in chalets, country houses and town houses in the interior of the Costa Blanca North.
In addition, we offer you a magnificent comprehensive service that will make it easier for you to buy any of our houses. We take care of:
search for the house of your dreams
carry out all the procedures related to the sale of the home
construction work and reforms, municipal permits, construction projects …
great after sales service
Do you need to sell your property on the Costa Blanca North to buy one of our villas for sale in Muro de Alcoy? Do not hesitate to trust us and you will see our great professionalism.
We are waiting for you at our office located at Calle Miquel d'Helena, 16 Planes (Alicante).