Discover the majestic mountain scenery of the inland Costa Blanca North where our properties for sale in Muro de Alcoy are located
23 Jun 2022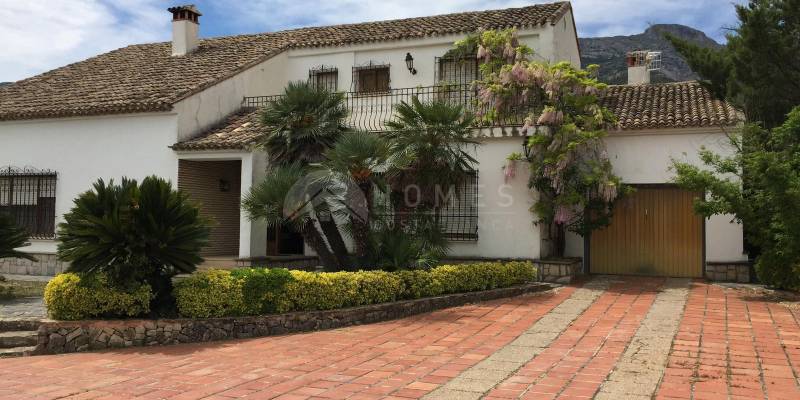 Surrounded by beautiful Mediterranean landscapes with lush native vegetation are our properties for sale in Muro de Alcoy. This small town, which does not reach ten thousand inhabitants, is located in the interior of the North Costa Blanca, next to the Sierra de Mariola Natural Park.
If you like rural tourism more than the beach, you will love our rural houses surrounded by mountains and vegetation, although this is not reason enough to give up the beautiful Mediterranean beaches of Spain: due to the extensive network of roads that you will find on the Costa Blanca, it will not take more than 40 or 50 minutes to access the tourist beaches of Altea, Calpe, Moraira...
In addition, in Muro de Alcoy you will find a wide range of services that guarantee a comfortable, healthy and relaxed life :
Health center, pharmacies, private medical consultations
Supermarkets, municipal market, all kinds of shops
Sports center and municipal swimming pools
intercity buses
Restaurants and bars where you can savor the typical and varied gastronomy
Bank offices, post offices, cinema…
Do you want to give a 180º turn to your lifestyle? Charming properties for sale in Muro de Alcoy with a typical rural design await you this summer
Our properties for sale in Muro de Alcoy are characterized by being traditional constructions , of large dimensions and in which you cannot miss:
White walls contrasting with roofs of ocher tones
Natural stone baseboards on the facades
Artistic window grills
fireplace in the living room
Porches with attractive views of the mountains
Etc.
Our homes have very large plots that provide you with 100% privacy . You will enjoy outdoor activities at any time of the year due to the ideal temperatures and the bright sun of this part of the Spanish Levante. In the plots of our houses in Muro de Alcoy you will find:
barbecue area
Pool and solarium
Ample parking for vehicles
Well-kept Mediterranean gardens
Orchard and crop area
Do you want to visit our properties for sale in Muro de Alcoy?
Contacting us will be very easy and we will quickly organize your visit to our properties for sale in Muro de Alcoy. At HOMES IN COSTA BLANCA we will help you in all the procedures related to the purchase of your home in Spain. Among our most demanded services we highlight:
We look for the house you want
We sell your property
Construction and reform of houses, swimming pools, extensions …
Supply name change
Hiring home, life, health, car insurance…
Interesting after-sales service
You just have to fill out the contact form on our website and we will get in touch with you to expand the information you need related to our properties for sale in Muro de Alcoy, Ontinyent and Cocentaina .
You will find our offices at Calle Miquel d'Helena, 16 – 03828 Planes (Alicante).