Do you want to live in a different place? Our villa for sale in Alcocer de Planes will captivate you
1 Aug 2022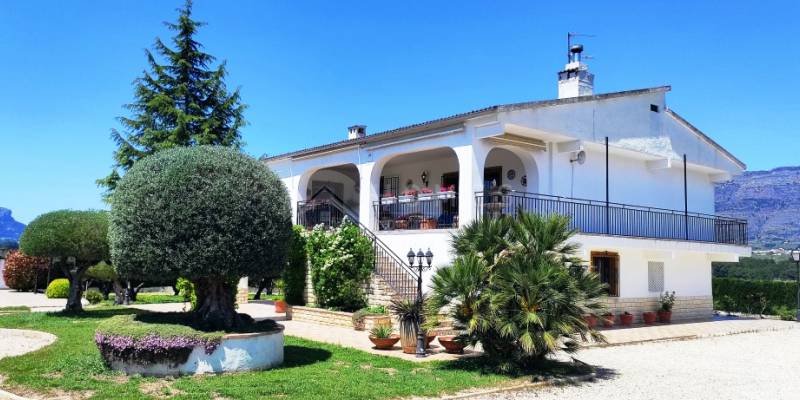 Would you like to have a special place to enjoy nature and the Mediterranean sun? Our villa for sale in Alcocer de Planes will impress you. Located in a rural setting surrounded by mountains, this beautiful town is located in the north of the Costa Blanca. It has just over 200 inhabitants and is characterized by its quiet streets and friendly neighborhood. You will be surprised by its exquisite local gastronomy , whose main dishes are rabbit with garlic, stew and borreta, very homemade meals that you can savor in the town's bars, where they cook in a traditional way.
In its surroundings there are important towns such as Cocentaina or Muro de Alcoy, which you will access in a few minutes and where you will find all the necessary services: supermarkets, health centers, varied shops, shopping centers, restaurants, bars, etc. In addition, through the A-7 motorway, this paradisiacal corner of the Spanish Levante has an excellent connection with all the Blue Flag beaches of the Costa Blanca, as well as with Alicante and Valencia.
This villa for sale in Alcocer de Planes is ideal to disconnect and live healthy
This summer you will love taking a dip in the pool of this villa for sale in Alcocer de Planes, sunbathing while reading a book or inviting your friends to spend a few days, since the house has a guest apartment . Imagine organizing a barbecue or touring the four hectares of your farm on a pleasant walk with the family. At sunset, there is nothing as rewarding as watching the sunset from your terrace. And all this for an incredible price!
This fabulous villa is built in a traditional style and features the typical architectural elements of the area:
White facades and roofs
arched porch
Bars with artistic designs on the windows
Plinths and stone clad walls
The house has all the comforts : fitted wardrobes, double glazing in the windows, fireplace, heating, parking for vehicles, etc.
In the following link you will find much more information about this chalet for sale with idyllic views of the surrounding mountains .
https://homesincostablanca.com/property/1891/beautiful-villa-for-sale-with-guest-accommodation-in-alcocer-de-planes/
Would you like to visit this villa for sale in Alcocer de Planes?
At HOMES IN COSTA BLANCA we make it easy for you. If you want to visit this chalet for sale in Alcocer de Planes, but you are not available to travel at this time, through our online viewings service we will offer you a virtual visit in real time. We will contact you through a video call on the platform of your choice (Skype, WhatsApp, Zoom or FaceTime) and our sales agent will take you on a tour of the home while explaining all its features and answering all your questions.
If you are interested in this villa for sale in Alcocer de Planes, contact us now through: