Discover the fabulous advantages offered by this villa for sale in Muro de Alcoy
16 Aug 2022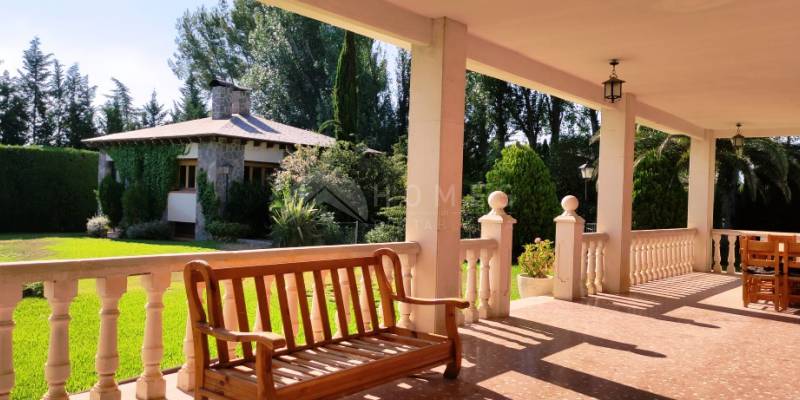 The charming rustic design of this villa for sale in Muro de Alcoy will captivate you from the start. Surrounded by a beautiful plot with huge decorative trees and leafy pines , it is the perfect place to enjoy the beautiful natural landscapes of the North Costa Blanca and share the pleasant company of your family and friends .
The house has six large bedrooms, four of them with fitted wardrobes, two bathrooms and two toilets, so it provides enough service to all your guests. In addition to its huge kitchen, it has an outdoor paellero and another in the adjoining house with the capacity to cook for a large number of diners. In summer, the best option is to enjoy its huge swimming pool surrounded by large solarium areas, although you always have the possibility of organizing a bicycle tour to discover the beautiful corners of the environment.
You will love the enormous privacy of this villa for sale in Muro de Alcoy
Located in the popular Sierra de Mariola, this villa for sale in Muro de Alcoy is very close to the town, where you have all the services : shops, supermarkets, health center, intercity buses, bank offices, municipal market, restaurants, bars ...
Its large plot, which is completely fenced , and the lush trees in its garden will allow you to live comfortably without having to worry about the prying eyes of the neighbors. Imagine yourself relaxing on its huge porch while admiring beautiful views of the garden. This property has an attached house with a basement built as a place for meetings and leisure . It is endowed with:
Gym overlooking nature
Huge kitchen with wood stove and barbecue
dinning room
Cellar
Meeting area with fireplace
2 toilets
To know all the details of this villa in Muro de Alcoy, click on the following link:
https://homesincostablanca.com/property/1911/nice-6-bedroom-villa-for-sale-within-walking-distance-to-muro-de-alcoy/
Do you have questions about our villa for sale in Muro de Alcoy?
If you are interested in this villa for sale in Muro de Alcoy, at HOMES IN COSTA BLANCA we will be happy to provide you with the information you need. We are specialized in country houses and chalets in Ontinyent, Cocentaina and Muro de Alcoy.
Our expert real estate agents speak English fluently and know perfectly the inland area of the Costa Blanca and its beautiful natural landscapes and will be able to advise you on the homes that best suit your interests.
We offer you a complete service related to the purchase of your property in Spain. We will take care of processing and speeding up all the procedures related to the purchase of this villa for sale in Muro de Alcoy, as well as offering you an interesting after-sales service.
You can contact us through any of the following options:
Call the phone: +34 649 430 894
Write an email: info@homesincostablanca.com
Visit us personally at our offices at Calle Miquel d'Helena, 16 – Planes (Alicante)
Fill in the contact form that appears on our website