Would you like to live in a 19th century manor house? Take a look at this finca for sale in Alfafara
9 Sep 2022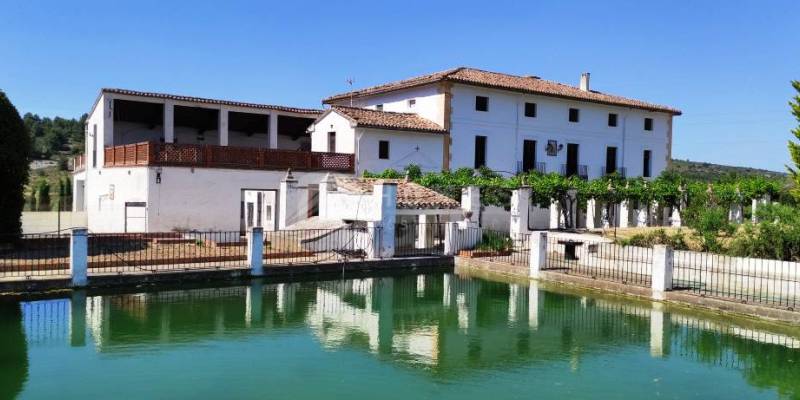 In the interior of the North Costa Blanca, very close to Ontinyent and Bocairent and surrounded by beautiful natural landscapes full of fountains, waterfalls and caves of great beauty , we discover an impressive estate for sale in Alfafara. This small town, with just over 400 inhabitants, is located at the foot of the popular Sierra Mariola and is the starting point for hikers and a resting place for those passionate about rural tourism. Therefore, in Alfafara it is easy to find a wide variety of traditional bars and typical mountain restaurants where you can enjoy great hospitality and taste the exquisite local cuisine.
In its surroundings you will find numerous paths and hiking trails through which you can access exceptional places such as the Font del Tarragó, the Font del Assut, the Cova de la Font, El Molino rupestre del Pantanet, the hermitage of Sant Antoni…
This impressive finca for sale in Alfafara has great potential as a rural business
Whether you are thinking of starting a rural hospitality business or looking for a large house with a lot of character to house your family and friends, this impressive estate for sale in Alfafara will captivate you.
The building has 9 rooms, 2 kitchens, an attic, fireplaces in the different rooms and a prodigious staircase that begins in the wide entrance hall and joins the different floors of the building. Being built in the mid-nineteenth century , it has architectural elements of the time in a very good state of conservation and that will make you fall in love, as is the case with:
Period interior carpentry with huge openings
Wooden beams with ornate carving
Frescoes painted above the fireplace in the main dining room
High ceilings
period furniture
Etc.
The building, which has built almost one thousand five hundred meters, is surrounded by extensive fields of olive trees, fruit trees and native vegetation that also belong to the farm . If you want more information about this monumental property, click on the following link:
https://homesincostablanca.com/property/1897/beautiful-finca-for-sale-in-alfafara/
We would love to personally show you this impressive finca for sale in Alfafara
If you are interested in this property for sale in Alfafara, we will love to show it to you personally to inform you in detail about all its advantages and the possibilities it contains. During the journey you will verify that access to the property is very comfortable and fast, ideal for your guests.
At HOMES IN COSTA BLANCA we are specialized in country houses, farms, town houses, etc. in the area of Alfafara, Ontinyent, Cocentaina, Muro de Alcoy… so we will take care of carrying out all the procedures related to the purchase of this property for sale in Alfafara.
To contact us you have several options to choose from:
Call the phone: +34 649 430 894
Fill out the contact form on our website or write an email to info@homesincostablanca.com and we will reply as soon as possible
Visit us at our physical office located at Calle Miquel d'Helena, 16 – Planes (Alicante)