We have the retreat of your dreams: an idyllic country house for sale in Lorcha to relax and unwind
16 Sep 2022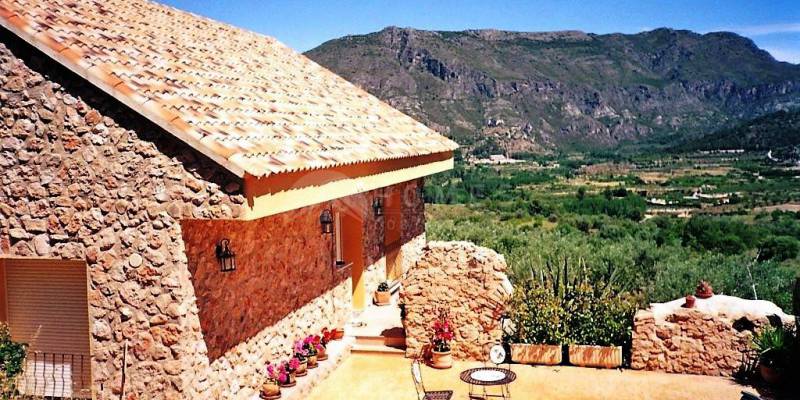 Are you looking for a quiet place surrounded by Mediterranean nature where you can have a refuge to disconnect? Then in this idyllic country house for sale in Lorcha you will make your dreams come true.
Lorcha is a small town that is located in the interior of the North Costa Blanca, next to the Serpis River. It is a magnificent place for hiking or cycling and enjoying a day with the family discovering beautiful landscapes . September is an ideal month to walk through these places. The sun is shining and the temperatures are very pleasant . You will surely love sharing numerous photographs of these spectacular corners with your friends on social networks.
After a pleasant day touring this idyllic place, nothing better than replenishing your strength by savoring the typical cuisine of the town. Among its most popular dishes we highlight the Blat Picat, the rice in broth, the river shrimp with chard...
Charming country house for sale in Lorcha with panoramic views of the valley and mountains
At HOMES IN COSTA BLANCA we have the perfect refuge for you. In this charming country house for sale in Lorcha you will enjoy relaxing getaways with your family or friends, regardless of the time of year, since any time is ideal to enjoy this wonderful environment. Can you imagine having breakfast on the sunny terrace of this house while enjoying these idyllic views?
The house is in a magnificent location, a few minutes walk from the town on a paved road. It has two floors and a semi-basement. Its facades are made of natural stone and its railings are wrought iron with artistic designs. Its interior will also fascinate you. Decorated in a charming rustic style , it has:
a bright kitchen with high-end appliances
large bedrooms
elegant bathroom design
very cozy living room
You can see more photos and complete your information about this farmhouse on the Costa Blanca by clicking on the following link:
https://homesincostablanca.com/property/1156/lovely-country-house-in-lorcha/
When do you want to visit this country house for sale in Lorcha?
If you are interested in visiting this country house for sale in Lorcha, we can make an appointment on the day and at the time you prefer. If you wish, we can also show you other similar homes, since we are specialized in country houses, farmhouses, farms, town houses... from the inland area of the North Costa Blanca . We have properties in Lorcha, Ontinyent, Cocentaina, Muro de Alcoy, etc.
Our team of expert estate agents speak English fluently and will be happy to advise you on all the requirements related to buying a property in Spain. In addition, we have a magnificent after-sales service in which we will help you with all the questions you need.
Contact us now:
Call us at +34 649 430 894
Send us an email to info@homesincostablanca.com
Come to our office at Calle Miquel d'Helena, 16 Planes (Alicante)
Fill in the contact form on our website