The best place for rural getaways can be found in our charming and traditional finca for sale in Gorga
23 Sep 2022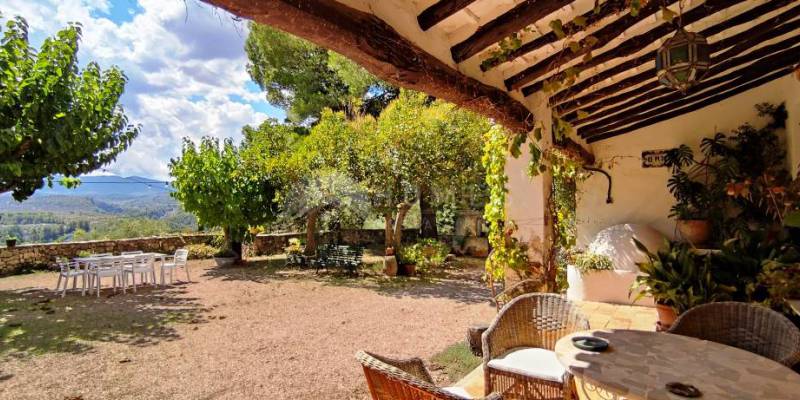 Would you like to find a Mediterranean corner surrounded by nature to escape on weekends? This farm for sale in Gorga will meet all your expectations due to its excellent characteristics and unbeatable location. Gorga is a typical Spanish town located in the interior of the Costa Blanca North that offers us one of the most beautiful spring landscapes in Spain due to its great variety of leafy trees, mainly almond and olive trees. The ancient olive tree located in the area of Racó de Felip or Sobirà, is the most precious natural treasure of Gorga. September, like the winter months, is a perfect time to enjoy attractive natural landscapes while you go hiking and feel the shining sun and the pleasant temperatures that surround this quiet town.
Another notable and characteristic value of this small municipality dedicated to agricultural work is its healthy local cuisine, with traditional dishes (pericana, olleta or borreta) ideal to complete your rural experience and replenish your energy after a long walk.
If you are looking to invest in country houses, our farm for sale in Gorga is perfect for those looking to disconnect from the noise of the city
Currently, the interest in disconnecting for a few days in rural houses, such as our farm for sale in Gorga, has increased exponentially due to the hectic pace of life. More and more people decide to rent a weekend or enjoy their holidays in rural accommodation close to nature and away from the hustle and bustle . This traditional Spanish Mediterranean-style estate is perfect for investment, since you have the opportunity to enjoy it on weekends or even rent it to third parties when you are not using it and obtain a high return. Its most outstanding features are:
Large number of rooms: 9 (4 double rooms)
State of conservation neat and clean
Surrounded by native vegetation
Large plot of 52,000 m2
Spacious and bright rooms
Large living room with fireplace and game room
Kitchen fully equiped
Large swimming pool with covered terrace
Covered parking for multiple vehicles
Mountain View
As you can see, our charming country house for sale in Gorga meets all the requirements that people interested in renting a country house in an inland town expect to find (tranquility, spaciousness, luminosity...). If you want to know more about this beautiful country house, click on the following link: https://homesincostablanca.com/property/1404/9-bedrooms-traditional-finca-for-sale-in-gorga/
Call us to book an appointment and show you all the qualities of our impressive property for sale in Gorga
If you have been interested in this property for sale in Gorga, contact us to reserve a day at the time you prefer to show you the house and personally explain all its characteristics. Our real estate agency is a specialist in houses on the Costa Blanca and a leader in properties located in inland towns , with an excellent reputation among international clients.
Do you want more information about our farm for sale in Gorga?