This finca for sale in Bocairent will allow you to live a completely rural lifestyle free from the stress of the big cities
7 Oct 2022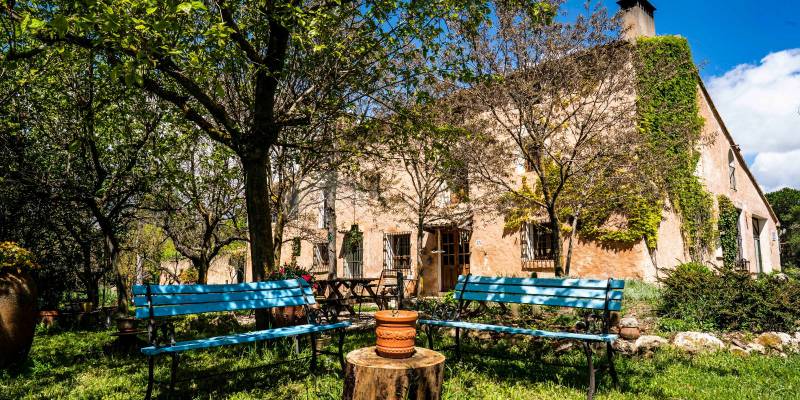 On the Costa Blanca, idyllic corners await you to discover very different from its tourist beaches of golden sand. In this beautiful area of the Spanish Levante you will find true natural gems, such as the Sierra de Mariola Natural Park, where this magnificent estate for sale in Bocairent is located.
Strolling through the alleys of this typical medieval town with its fountains, hermitages, stately homes and small squares, you will go back in time . You will love sitting in any of its typical bars, where accompanied by the red wines of the area, you will savor its exquisite local cuisine:
Pericana : dried tomatoes and peppers crumbled with garlic, olive oil and salted fish
assorted sausages
Bajoques farcides : baked pepper stuffed with rice
Puchero con pelotas – a traditional stew with large meatballs
Gazpacho with small game and snails
Finally, don't forget to try the herbero, a typical liqueur made with a mixture of sweet and dry anise macerated with herbs from the Sierra Mariola.
The surroundings of the town are perfect for hiking trails accompanied by your family. You will locate very peculiar places such as the caves of Bocairent "Covetes dels Moros" or the "la Cava de Sant Blai" snowfield, where snow was stored throughout the year to preserve food.
Sun and tranquility, the main bet of this beautiful farm for sale in Bocairent
HOMES IN COSTA BLANCA offers you this magnificent estate for sale in Bocairent, an ideal corner to live surrounded by nature. Located five kilometers from the town center, it has an excellent access road , so it will be very convenient for you to get to the town where you will find all the necessary services.
This large farmhouse was built in 1900 and is located in the Sierra de Mariola Natural Park . It has a large plot of land that exceeds 200,000 m2, with cereal growing areas, pine forests, scrubland areas... Can you imagine being able to enjoy a private paradise?
Surely you have been wanting to know more details about this impressive estate in Bocairent. In the following link you can discover all its features: https://homesincostablanca.com/property/1864/stunning-traditional-finca-for-sale-in-bocairent/
Do you prefer that we personally inform you about this property for sale in Bocairent?
If you prefer that we call you to inform you personally about the different characteristics of this property for sale in Bocairent, you only have to fill out the contact form that appears on our website and, as soon as possible, we will contact you.
HOMES IN COSTA BLANCA is the real estate agency specializing in country houses, farms, country houses, town houses… located in the Ontinyent, Cocentaina, Bocairent, Muro de Alcoy, etc. We will offer you the real estate advice you need to buy a property in Spain, as well as a complete after-sales service .
If you prefer to visit us at our facilities to find out more about this property for sale in Bocairent, our office is located at Calle Miquel d'Helena, 16 – Planes (Alicante).