This high standing villa for sale in Ontinyent has no lack of details
21 Oct 2022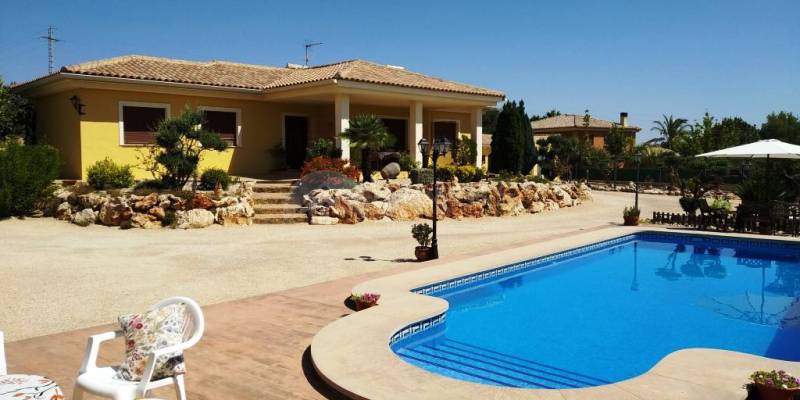 Looking for your ideal home? If you are passionate about nature and tranquility, this chalet for sale in Ontinyent will captivate you. Located in an elite residential area near the town , it is the perfect place to live. You have the possibility of contracting internet, so you can telecommute in a unique environment. Can you imagine your working day surrounded by a beautiful natural setting? Now you have the option to lead the healthy lifestyle you've always dreamed of.
Ontinyent is located in the Spanish east, in a mountainous interior area. It is crossed by the Clariano river, which, although it has little flow, offers landscapes of great beauty, especially in the area called Pou Clar. Its crystal clear and very cold water does not prevent it from being the place chosen by the people to take refreshing baths in the summer. In the Pou Clar we find different natural pools, suitable for bathing the whole family . The environment has been conditioned with stone tables for picnics and parking for vehicles. It's perfect for spending a nice day in contact with nature, riding a bike, hiking along the river... You'll surely love uploading snapshots of the squirrels roaming the trees to your social networks.
Discover the magnificent characteristics that will make you opt for this villa for sale in Ontinyent
The traditional design house is built on one floor on a large plot . It has three bedrooms with fitted wardrobes, a bathroom and a toilet. Among the main characteristics of this fabulous villa for sale in Ontinyent, we highlight:
Built with the best quality materials
Nice garden of native plants and low maintenance
Large swimming pool surrounded by solarium, shower and changing rooms
Parking for two vehicles
Barbecue, toilet and storage room
Wood stove in the dining room
Elegantly furnished kitchen with appliances
Bathrooms with a beautiful traditional design
Fenced plot with automatic vehicle gate
Air-conditioning
In the following link you will discover all the details about this fabulous villa for sale in Ontinyent:
https://homesincostablanca.com/property/1577/stunning-3-bedroom-villa-with-pool-for-sale-in-ontinyent/
Would you like to visit this luxurious villa for sale in Ontinyent?
If you are interested in this chalet for sale in Ontinyent, do not hesitate to contact us. HOMES IN COSTA BLANCA is the real estate agency specializing in the sale of properties in Ontinyent, Cocentaina, Muro de Alcoy... We have a wide portfolio of chalets, villas, country houses, farmhouses, farms... in the area and an experience of more than 15 years in real estate.
Contact us now and we will solve all your doubts related to this villa for sale in Ontinyent or any other of the properties that you will find on our website.
Choose any of the following contact options:
Email: info@homesincostablanca.com
Telephone: +34 649 430 894
Contact form on our website
Office: Calle Miquel d'Helena, 16 – Planes (Alicante)