In the heart of a natural paradise lies this attractive country house for sale in Ontinyent
11 Nov 2022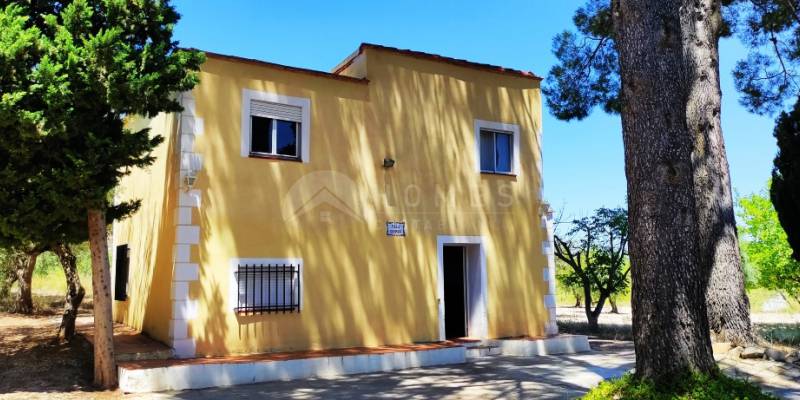 The interior of the Costa Blanca hides beautiful natural landscapes that surround our country house for sale in Ontinyent. This town in the province of Alicante is one of the best places to enjoy contact with nature, as it has areas of great ecological value, green routes and historical trails. This cosy chalet is perfect both for year-round living and as a weekend getaway. It is also one of the most profitable investments you can make to improve the quality of life for you and your family.
Some of the most emblematic green spots are the Pou Clar, Ontinyent's best known natural treasure, and the Cova del Avern, one of the most recommended places to visit. This inland town has a multitude of routes and hiking trails that allow you to contemplate nature in all its essence. The fluvial route along the river Clariano, the Serra d'Ombria and Gamellons routes or the Forns de Cals path in the Alforins are some examples worth discovering. Located in the region of La Vall d'Albaida, Ontinyent has positioned itself in recent years as a reference in rural tourism because of:
Beautiful views next to the river
Festivities: Moors and Christians festivities, the Patron Saint's Festivities of the Purísima, Holy Week and Easter and the Ontinyent Fair.
Cultural offer: Museum of Valencian Textiles and Museum of the Giants and Big-heads.
Culinary offer: exquisite singular gastronomy in which the sausages play a special role.
Despite being a village located in the middle of a mountainous area, it is easily accessible from Valencia and Alicante.
We tell you why buying this country house for sale in Ontinyent is an excellent investment
The most attractive aspect of this country house for sale in Ontinyent is its location in the middle of nature and its investment potential. This property for sale in Ontinyent has a reduced and highly competitive price, which makes it an investment opportunity. Moreover, if you are looking for an investment that will generate extra income in the future, you can always reform it and rent it to third parties when you are not using it.
This country house has 6 bedrooms, a fireplace, a barbecue, a swimming pool and large outdoor areas. Its large plot offers you total privacy and multiple options to enjoy the nature and do different outdoor activities.
To see more information about this property in Ontinyent, click on the following link: https://homesincostablanca.com/property/1301/6-bedroom-country-house-for-sale-in-ontinyent-with-pool-and-mountain-views/
HOMES IN COSTA BLANCA helps you to refurbish this country house for sale in Ontinyent
Our real estate agency will help you throughout the whole process of buying this country house for sale in Ontinyent and can also provide you with all the support you need through a personalised renovation service. Contact us for more information about this country house for sale in Ontinyent.
Call us on +34 649 430 894
Write an email to info@homesincostablanca.com
Visit our offices located at Calle Miquel d'Helena, 16 - 03828 Planes (Alicante)