​Do you want a place to relax in a rural setting? Take a look at this charming country house for sale in Muro de Alcoy
2 Dec 2022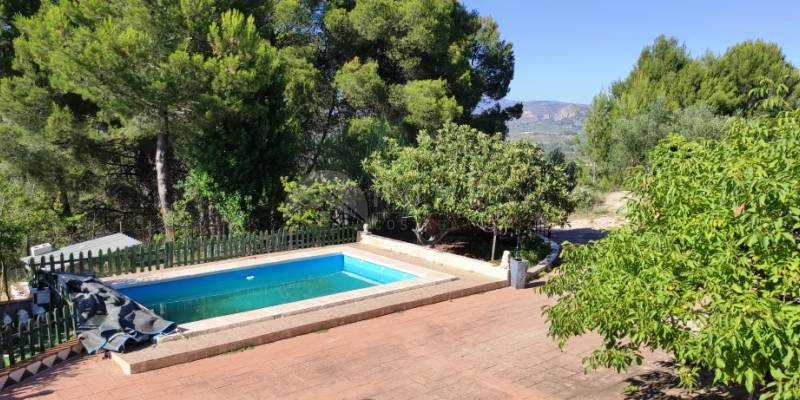 Surely, on many occasions, you have dreamt of spending your winter evenings by the fireplace reading a book. Now you can make your dreams come true in this charming country house for sale in Muro de Alcoy.

Surrounded by a beautiful mountainous landscape, the property has beautiful views of the valley that surprises with its lush pine forests and green fields. Furthermore, the house is only a few minutes' walk from Alquería de Aznar, a small village that is characterised by being the smallest in the whole of the Valencian Community. This idyllic municipality is surrounded by beautiful mountains. You will love strolling through its steep narrow streets while you listen to the clock in the bell tower of the church or visit its traditional washing place, still in operation. You'll find idyllic spots to photograph and share with your friends on social media. You will be surprised by the modern heated swimming pool that the town has, a reference point for all the surrounding towns.
The river Serpis runs next to this bucolic place. Along the paths that run through this beautiful environment you will find recreational areas equipped with playgrounds for children, paelleros and tables, fountains ... a magical place among lush forests of elms, oleanders, poplars...
In this country house for sale in Muro de Alcoy you will lead the healthy lifestyle you have always longed for
Surrounded by nature and very close to an urban centre where you have supermarkets, several shops, chemist ... you will find this spacious country house for sale in Muro de Alcoy. It is located on a plot which is fenced and also has some fruit trees. This traditional house has five bedrooms and is equipped with everything you need to live comfortably:
Air conditioning
Parking for two vehicles
Swimming pool surrounded by solarium
Fireplace in the living-dining room
Click on the following link to find out more about this country house for sale:
https://homesincostablanca.com/property/1908/beaut...

Ask now to HOMES IN COSTA BLANCA for this country house for sale in Muro de Alcoy
Don't wait any longer to contact us if you are interested in visiting this country house for sale in Muro de Alcoy. All you have to do is fill in the contact form on our website with your details and a brief explanation of the enquiry you wish to make.
As soon as possible, one of our estate agents will contact you and, if you wish, you will arrange an appointment to visit this country house for sale in Muro de Alcoy. We can also show you other properties for sale in Ontinyent and Cocentaina.
Email: info@homesincostablanca.com
Telephone: +34 649 430 894
Office: Calle Miquel d'Helena, 16 - Planes (Alicante)
Image gallery