This country house for sale in Millena, surrounded by nature, is the house you need to disconnect
30 Dec 2022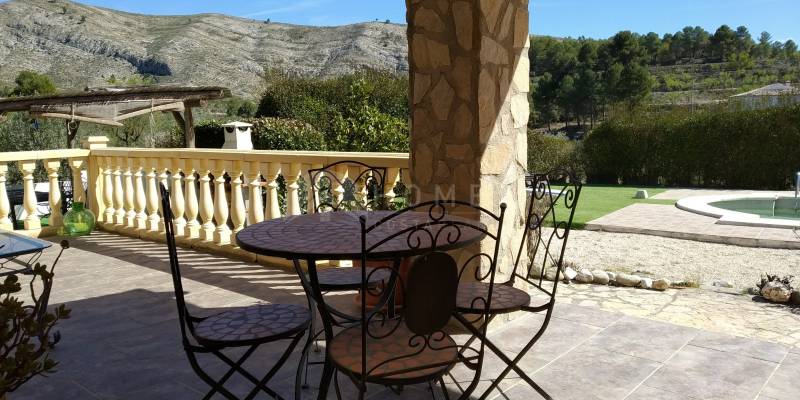 This country house for sale in Millena is ideal for disconnecting and enjoying the beautiful Mediterranean countryside. In the surroundings of this beautiful mountain town, located in the interior of the Costa Blanca North, we find extensive dry land crops, among which the olive and almond groves stand out, with the production of olive oil from Millena being very famous throughout the area for its high quality. Among the most attractive places in this small village we would like to highlight:

The fountains of Baix and Dalt, with their washing place still in use
The three hundred year old elm tree located in the village square
The thousand-year-old olive tree with its thick, twisted, ash-coloured trunk
The church of San José
Taking advantage of the excellent climate of this region, you will love cycling to observe its attractive landscapes or hiking to discover the most charming corners of the municipality. When you finish, you will surely want to savour the exquisite dishes of the local gastronomy in its typical bars, among which we highlight the following:
Pericana
Borreta
Olleta
Pumpkin fritters
What is so special about this country house for sale in Millena?
Built with a traditional character, this country house for sale in Millena has been renovated using the best materials currently available on the market. From its porch, finished with natural stone skirting boards and balustrade, you will enjoy beautiful open views of the mountains. Its plot, of enormous proportions, has cultivation areas, gardens, swimming pool, solarium and a barbecue area where you will love to share a pleasant outdoor lunch with your friends.
This house for sale in Millena has a spacious living-dining room with a large fireplace, a favourite place for the family to gather on winter evenings. A luxurious kitchen of modern design and equipped with state-of-the-art appliances will allow you to cook in total comfort. In addition, there is a separate guest house which has yet to be completed.
If you are interested in this property for sale in Millena, click on the following link for more information:
https://homesincostablanca.com/property/1520/lovely-5-bedroom-country-house-for-sale-in-millena-with-pool-and-3-bedroom-self-contained-studio/
HOMES IN COSTA BLANCA offers you this fabulous country house for sale in Millena where you will love to live
At HOMES IN COSTA BLANCA we specialise in the sale of country houses, villas and town houses in Ontinyent, Cocentaina, Muro de Alcoy, Millena, Agullent, Gaianes... If you are interested in this country house for sale in Millena, our expert estate agents will help you to manage quickly and professionally all the procedures related to the purchase and sale of the property.
Contacting us is very simple. Choose any of the following options and we will inform you in detail about this country house for sale in Millena:
Telephone: +34 649 430 894
Email: info@homesincostablanca.com
Office: Miquel d'Helena, 16 - Planes (Alicante)
Fill in the contact form on our website
Image gallery