Find your ideal home in this country house for sale in Cocentaina with mountain views
3 Feb 2023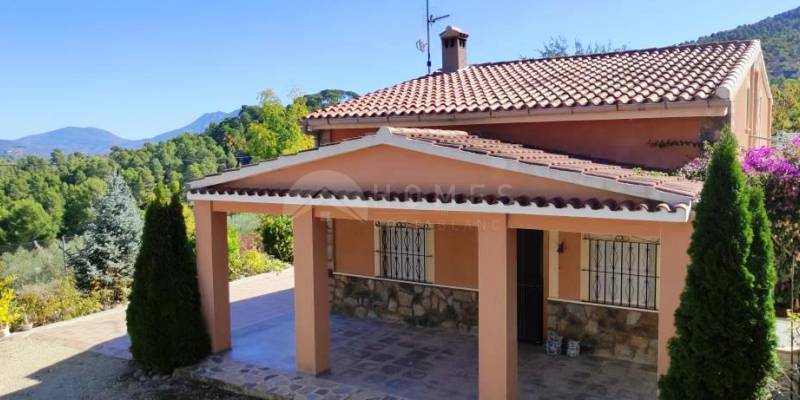 Living in a house surrounded by nature and very close to an urban center can be a wonderful experience. In this country house for sale in Cocentaina you will enjoy multiple advantages. We offer you some of the most outstanding:
Tranquility: Living in the country means being away from the crowd, noise and stress of urban life. This can be a great relief for those looking for some peace and quiet.
Space and privacy : By living in this fabulous country house, you will have a larger space and enjoy much more privacy than in houses in urban centers. This can be especially valuable for those who enjoy spending special moments with family or who have animals.
Healthy lifestyle : By living on a farm in Cocentaina, you can be in direct contact with nature, sunbathe, do outdoor activities, go on bike tours with your family, go hiking...
HOMES IN COSTAS BLANCA offers you the country house for sale in Cocentaina where you will live happily with your family
Living in this country house for sale in Cocentaina can be an enriching and rejuvenating experience that will help you enjoy your family and friends. It has five very bright bedrooms that will allow you to gather all your loved ones. Imagine winter afternoons enjoying pleasant gatherings in the spacious living-dining room around its wood stove. The excellent climate of the area offers you very sunny days perfect for organizing an outdoor barbecue. In summer, you will love having fun in its huge pool surrounded by solarium areas with total privacy.
In addition, the house is located just five kilometers from the town, which is accessed by a comfortable paved road. A few minutes will be enough to find yourself in the urban center of Cocentaina where you will find all kinds of services : supermarkets, various shops, bank offices, restaurants, medical centers, etc.
If you are interested in this farm located on the Cocentaina mountain, you can expand your information at the following link:
https://homesincostablanca.com/property/1923/5-bedroom-country-house-with-pool-for-sale-in-cocentaina/
You will be surprised how comfortable it is for you to buy a country house for sale in Cocentaina if you contact HOMES IN COSTA BLANCA
By contacting us, the purchase of this country house for sale in Cocentaina will be comfortable and worry-free. We put at your service our long real estate experience on the Costa Blanca and the great professionalism of our real estate agents .
You will quickly see that, with our comprehensive assistance and service , you will not need to worry about any issue related to the purchase of this country house for sale in Cocentaina.
You can contact us through any of the following ways:
Filling out the contact form on our website
Calling the phone: +34 649 430 894
Writing an email to info@homesincostablanca.com
Visiting us in person at our office at Calle Miquel d'Helena, 16 Planes (Alicante).