This finca for sale in Albaida is the perfect place for your next project
17 Feb 2023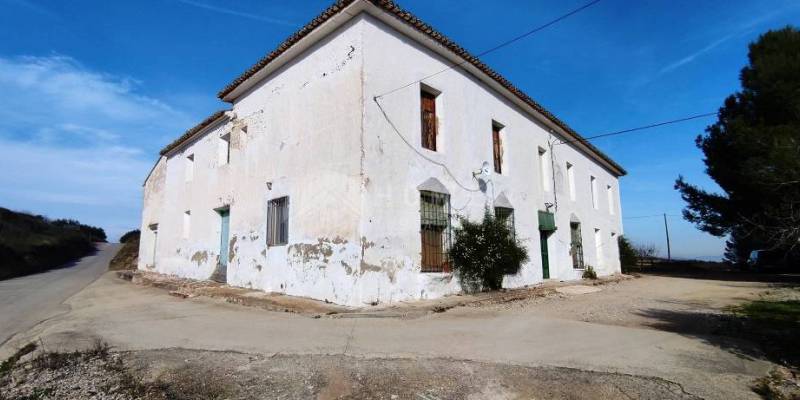 Do you have an attractive project in mind and need a farmhouse surrounded by a large expanse of land? This finca for sale in Albaida is sure to meet all your expectations. Surrounded by dryland agricultural fields where fruits, grapes, vegetables, olives, almonds, and more are grown… this typical inland town is well connected to other surrounding areas by the Mediterranean Highway. This characteristic makes Albaida a very interesting town if you wish to undertake a business project, as it offers great tourism and agricultural potential. Depending on the investment possibilities and your objectives, this farmhouse is the perfect place for:
Rural house: With some renovations and updates, the estate could become a charming rural house for tourists looking for an authentic experience in the Albaida countryside.
Vacation home: If you are looking for a countryside getaway for your family and friends, the farmhouse is an excellent option for your vacation home. It could be a place where you can escape the stress of the city and enjoy nature.
Ecological farm: If you have experience in agriculture or livestock farming, the estate offers you an opportunity to establish an ecological farm. With a little investment in the property, you could take advantage of the rural location and available land to grow organic food or raise animals.
Retreat center: If you are looking to create a space for meditation, yoga, personal growth workshops, etc., the farmhouse could be an ideal space for the creation of a retreat center.
Event center: The estate could be converted into a place for weddings, corporate meetings, business events, and other types of celebrations.
Magnificent finca for sale in Albaida surrounded by nature and with idyllic views of the valley
This finca for sale in Albaida has all the possibilities to transform and turn it into the project you desire. With more than 700 square meters built and spread over two floors, this typical farmhouse built in 1884 is ideal for undertaking a business project.
The property has drinking water, electricity, internet connection, fireplace... and offers excellent views of the valley. It is located on an extensive plot that exceeds 140,000 m2, where there are plantations of peach trees, olive trees, plum trees, almond trees, etc. In the following link, you will find more information about this farmhouse in Albaida:
https://homesincostablanca.com/property/1934/large-traditional-finca-for-sale-in-albaida/
Do you want to visit this finca for sale in Albaida? Contact HOMES IN COSTA BLANCA
If you are interested in this finca for sale in Albaida, contact HOMES IN COSTA BLANCA. We are the real estate agency specialized in properties for sale in Ontinyent, Cocentaina, Albaida, Muro de Alcoy, etc.
We will be delighted to provide you with all the information you need related to the purchase of an finca for sale in Albaida. Contact us now through: