In this spectacular finca for sale in Alcoy you will feel the charm of living in a great centenary house
3 Mar 2023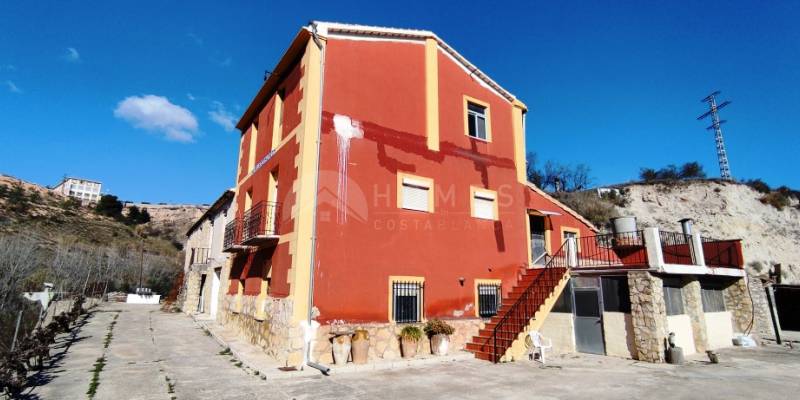 Alcoy is an important town with a very beautiful natural environment that is located in the province of Alicante . If you are thinking of moving to this area, but you want to live in a quiet place surrounded by nature, we offer you this large finca for sale in Alcoy, very close to the urban center. Among the main characteristics of this finca for sale from the beginning of the 20th century , we highlight:
Tranquility : living on a finca in Alcoy means being surrounded by nature and enjoying a tranquility that you will hardly find in the city. The fresh air, the sounds of the birds and the feeling of peace that one breathes here, are a great advantage for those who seek a more relaxed lifestyle.
Privacy : another of the advantages of living in a finca house in Alcoy is that you will have more privacy. This house is surrounded by a large expanse of land where olive trees are grown, which means that you will not have to worry about noise or prying eyes from the neighbors.
Space : Living in this finca will give you the opportunity to enjoy ample space, both inside and outside the house. You will be able to have a large garden to plant your own vegetables and fruits, space to keep animals, and much more space to move and breathe.
Views : another of the great advantages of living on a finca in Alcoy is being able to enjoy spectacular views. Being surrounded by mountains and nature will allow you to enjoy impressive landscapes that will change your perspective on life.
Less pollution : living on this finca in Alcoy will keep you away from the pollution and fumes from the cars typical of the urban center. Breathing clean, fresh air, away from noise and traffic, will improve your quality of life.
Autonomy: if you are looking for a more independent lifestyle, living on this finca is a good option. You will lead a healthier and more natural life, without giving up all the infrastructures of the urban center, located just 1500 meters away.
Why choose this finca for sale in Alcoy to live?
In this finca for sale in Alcoy, which was built more than a hundred years ago , you will enjoy the current comforts, since it has electricity and has the possibility of internet . The large building is made up of two independent houses, one of them in need of reform.
Although the main house has a current bathroom and kitchen , it continues to maintain the charm of its grand staircase, its high ceilings, its fireplace... Its bright and spacious rooms are perfect for hosting a large family or inviting your friends.
Click on the following link and you will be able to know all the advantages offered by this magnificent finca for sale in Alcoy:
https://homesincostablanca.com/property/1937/massive-finca-for-sale-within-walking-distance-to-alcoy/
Contact HOMES IN COSTA BLANCA and we will inform you of all the characteristics of this finca for sale in Alcoy
Are you interested in this finca for sale in Alcoy? Call HOMES IN COSTA BLANCA now and we will answer all your questions about this finca or any other finca for sale in Alcoy, Cocentaina, Ontinyent... that you find interesting.