This country house for sale in Muro de Alcoy is a hidden treasure on the Costa Blanca North
10 Mar 2023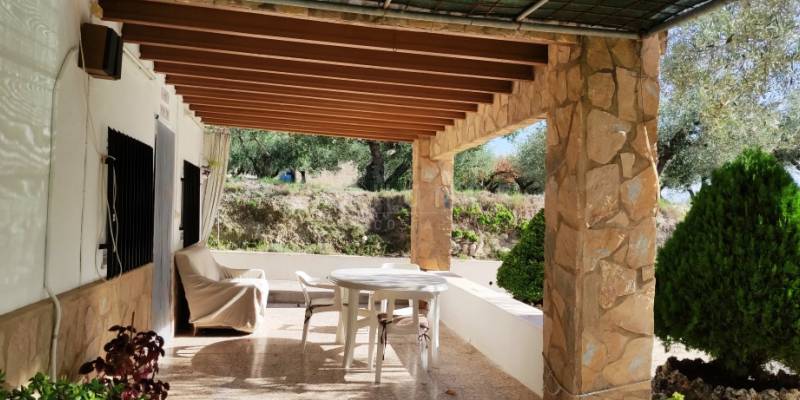 The Costa Blanca has an idyllic climate where the sun shines practically all year round. Imagine yourself on the charming porch of this country house for sale in Muro de Alcoy enjoying beautiful views of the mountains while you sunbathe.
Muro de Alcoy is a municipality with a pleasant climate, an interesting historical center and lush nature for those looking for outdoor activities. The town has a large number of places of tourist interest, as well as all the essential services to live in total comfort. It is located in the Sierra de Mariola, next to the Serpis and Agres rivers: A special place for lovers of hiking or cycling, since they have the opportunity to discover unparalleled landscapes.
Its old town is a must-see. With narrow cobbled streets and historic buildings, you'll feel like you've stepped back in time. In addition, the church of San Juan Bautista is one of the most important in the area and has impressive architecture. In July, its popular Moors and Christians festivals are celebrated, recreating an authentic atmosphere with a lot of history.
What is special about this typical country house for sale in Muro de Alcoy?
At HOMES IN COSTA BLANCA we offer you this charming country house for sale in Muro de Alcoy, a special place to disconnect and relax. If you are passionate about nature, you can enjoy with your family the many advantages offered by this idyllic traditional-style home :
Magnificent views of the mountains
paved road to the village
Dining room with fireplace where you can spend entertaining winter evenings
Pool to have fun with your children and your friends in summer
Outdoor area with children's games
outdoor barbecue
Air-conditioning
In the attached link you can see an interesting video, as well as a complete photo album of this farm for sale in Muro de Alcoy.
https://homesincostablanca.com/property/1308/3-bedroom-country-house-for-sale-in-muro-de-alcoy/
Are you looking for a farm inland on the North Costa Blanca? Visit this country house for sale in Muro de Alcoy
When you visit this country house for sale in Muro de Alcoy you will be delighted. In addition, by checking all the possibilities it offers you, it will be very easy for you to personalize the home and adapt it to the needs of your family.
At HOMES IN COSTA BLANCA we are specialized in the sale of properties in Muro de Alcoy, Cocentaina, Ontinyent ,... We will be happy to facilitate all the procedures related to the sale of your property in Spain. Likewise, we also offer you a construction and renovation service with highly professional and trustworthy staff.
If you want more information about this country house for sale in Muro de Alcoy or any of our other properties, contact us at: